Friday, April 17, 2015 at 6:46PM
"The next Jonas Salk will be a Mathematician, not a Doctor."
~
Jack Einhorn, Chief Scientist, Inform Laboratories
"Soon, you're probably not going to be able to say that you're a molecular biologist if you don't understand some statistics or rudimentary data-handling technologies," says Blume. "You're simply going to be a dinosaur if you don't."
~
John Blume, VP of Product Development, Affymetrix
in
Nature
Pieces of April
I'm excited about the start of baseball season — for someone who grew up in Western New York the coming of April, spring and warm weather is always a good thing. April meant that the days of taking ground balls off of gymnasium floors were over and it might be cold and awful outside, but you were finally out playing baseball! The cold dark winter was finally over…
Later, when I was at
MIT
and lived in the Boston area, April also meant the
Boston Marathon
. Patriot's Day was the one day of the year when (in sympathy) I always hoped for cool, damp weather.
This year's April 21 Marathon is a fun one for me, because this year I have a rooting interest and this year (courtesy of the Boston Athletic Association, Nike and the Internet) it will be possible to track the split times of all the runners as they race throughout the day. My rooting interest is for my niece Amanda — Mars rocket scientist at the Jet Propulsion Lab who ran a 3:16 ( WOW! ) marathon out in California last year to qualify. Amanda is a great person, a great runner, and her run Monday is a great win for the next Scientific Revolution that is upon us:
Amanda has leukemia.
Has. Not had, but qualifying for Boston does show that she has a certain leg-up on things. Leukemia. Think of old movie images — Ali MacGraw as Jennifer Cavalleri in Love Story, fading away romantically (if unrealistically) to close the movie… Not anymore — That was then, this is now.
The difference between 2010's medicine and 1970s bathos is advanced analytics — here manifested as rational drug design. As summarized in the article on the breakthrough:
Imatinib was developed by rational drug design. After the Philadelphia chromosome mutation and hyperactive bcr-abl protein were discovered, the investigators screened chemical libraries to find a drug that would inhibit that protein. With high-throughput screening, they identified 2-phenylaminopyrimidine. This lead compound was then tested and modified by the introduction of methyl and benzamide groups to give it enhanced binding properties, resulting in imatinib.
This is where the new scientific revolution is coming from. We've reached the limits of the classic scientific method, where scientific advancement came in a three-step process:
In the world ahead we advance our understanding by:
These two new first steps change the world as we know it.
So, amid the many steps that drive the advance of cancer, there may be some where the cancer shows an Achilles heel — here the rogue bcr-abl protein that is critical to cancer progression. FORGET about "curing" cancer — if you can identify and deliver a mechanism that stops that protein you will stop the progression of the disease and change the cancer from dreaded-evil-of-pulp-movies into just another serious-but-treatable condition.
Rule #1 of the new Revolution: Answers aren't All or Nothing anymore. If you can identify things that make your world a little better, you might then find big wins by targeting their underlying mechanism.
You can track individual
runners and results
for Monday's Boston Marathon here:
Live Raceday Coverage
.
Moneyball
So back to baseball. Part of my love of the sport was that it was possible to be an effective baseball player without necessarily being all that great a baseball player. In high school and at MIT I had an OK fastball, no curveball but a surprising knuckleball, and I could throw strikes, hit, bunt and field decently. I was the type of pitcher who had batters cursing themselves on the way back to the dugout, but if I played the percentages I could survive more than I deserved by "throwing junk."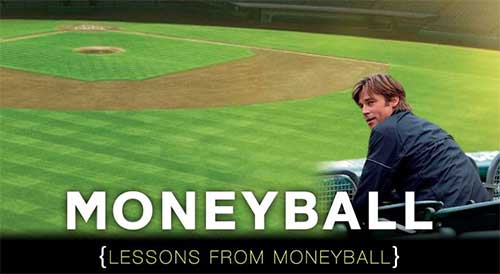 The Michael Lewis book Moneyball is fascinating because it is based on the notion that, to paraphrase The Bard: "There are more ways to win baseball games, Horatio, Than are dreamt of in your philosophy."
The magic here was not that there were still ways for a cheap, bad team to win baseball games. The magic was that, even in as statistical a game as baseball (Proof: How many home runs did Babe Ruth hit? If you know baseball then you didn't have to look that up.), we paid most of our attention to the wrong things!
Everybody who has ever been around a ballpark has heard of the Triple Crown (home runs, RBIs and batting average) for hitters, and W/L records and maybe strikeouts per innings pitched for pitchers. These may be fine, but a very different set of indicators are the statistics that made Moneyball happen.
Before Moneyball, who ever heard of
(and for you Fantasy Baseball GMs)
These bring us to our second rule of the new scientific revolution. Back in the DBS (days before spreadsheets) we worried about things like "statistical sample sizes" because it was practically impossible to track and measure everything.
Again — that was before. With a million rows possible in Excel and smartphone processors 150 million times faster than the computers that took Man to the Moon (much less new tools like Hadoop), our sample sizes can now be the entire population and we can track anything imaginable within that population. In baseball we historically tracked HRs, BA and RBIs because you could calculate them in time for the next edition of the morning paper, not because they were what we should have tracked. So:
Rule #2 of the new Revolution: Your sample size is the entire population: what things do you need to track to make things better in Rule #1?
Application to Modern Medicine and Healthcare
While it's easy to focus on innovations in medicine and patient care from advanced analytics, there are also positive advances in healthcare business management that shouldn't be overlooked when considering data in the healthcare equation. The diagram below shows some of the kinds of advances that are becoming everyday practices for leading healthcare providers.
Integrated patient data in the evolving age of EMR is just one of the places where advanced analytics can improve facility operations. Analytics and heuristics can advance this critical area, potentially augmenting advanced practices such as those outlined by Grant Landsbach in a recent paper.
Assisted diagnosis is another area of rapid evolution. IBM's Jeopardy-winning analytics system 'Watson' has been retargeted at medical diagnosis, and even if the breathless claim IBM's Watson Supercomputer May Soon Be The Best Doctor in the World falls short in actual practice, everyday benefits are likely in all fields of medicine as smart analytics evolve to resemble 'Librarians' from Neal Stephenson's futuristic novel Snow Crash.
Genomic treatment is a third area that is rapidly evolving today. Tamoxifen (where metabolism to endoxifen is genetically limited in 20% of cases) and Plavix (which by a similar mechanism is ineffective in almost 25% of patients) are just two of potentially many cases where medicine must be personalized to be effective.
This brings us to the third rule of the new Revolution. As the sample size grows to the whole population, the target population shrinks to one. I still remember being stunned, reading the headline back in 1991 when Magic Johnson announced that he had the AIDS virus. With the devastation legacy that AIDS had wrought by 1991, who would have dreamed that Magic would be alive and well almost 25 years later? We still have no "cure" for AIDS, but drug cocktails have moved from Dallas Buyers Club to real medicine. So, finally:
Rule #3 of the new Revolution: Wins are statistical — just because you don't have the all-or-nothing of a "cure" doesn't mean that progress on a little can't add up to a lot.
The Revolution Realized — Moving to Personalized Healthcare
The Healthcare advanced analytics field is ripe and significant advances are occurring daily. Even in an increasingly rugged business environment, Healthcare leaders are still driving better business practices and innovations in medicine and patient care.
Innovations in healthcare are increasingly appearing from outside of the classical scientific method, and these advances in management and patient care may match the revolutionary breakthroughs from Lister and Semmelweis more than a century ago. Leukemia treatable? — sure, we've had a range of approaches for fifty years now. But glioblastoma multiforme?
Advanced analytics is changing medicine and healthcare
, and innovative leaders are changing the practice of medicine and with it are changing life as we know it. Managerial and clinical advances are a marathon effort, and many of the tools and techniques for advanced analytics are still in their infancy. We are, both healthcare providers and analytics experts, just getting started.
YAY

Amanda! 3:27:42 in driving rain IN

THE BOSTON MARATHON

!!!
Find your strength. Change the world. Be part of next revolution at TeamAmandaStrong !
Play Ball!

John Repko
|
Comments Off
|